Donate
Your generosity is a vital part of our fundraising efforts. Donations to the Komen Race for the Cure are tax-deductible and support local breast cancer education, screening and treatment programs right here in our community.
Donate to a Participant or Team: It's easy to make a donation directly to a Race participant or Team. Use the search below to get started.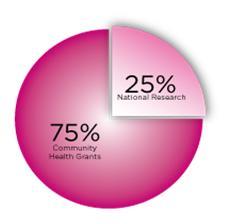 Honor/Memorial Donations: If you have made a donation in Honor/Support/Memory of someone and would like to send a tribute card, you can download and print them here.
Where Does the Money Go? Up to 75% of the net proceeds raised through the Komen Race for the Cure stays right here in our community to fund breast cancer programs and at least 25% supports Susan G. Komen's national grants program to fund research.
Visit our local grants page and read more about how the money you raise is helping women in our community.
If you have collected donations, you may bring them to the registration tent on Race Day, or mail them to:
Susan G. KomenŽ Greater Fort Worth Race for the Cure®
2216 Green Oaks Rd., Fort Worth, TX 76116
PLEASE help us track your donations and thank those for their generous gifts by attaching a Donation Collection Form to all of your mailed donations.